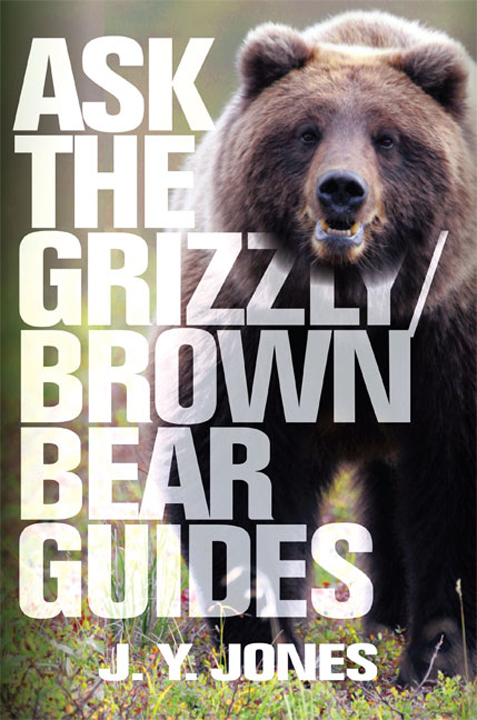 Ask the Brown Bear/Grizzly Guides
By J.Y. Jones
Long Beach 2010
Non-Fiction, Hunting
ISBN: 978-1-57157-346-9
When writing the manuscript for Ask the Brown Bear/Grizzly Guides, the author discovered far more interest in the big bears than for any of the other animals in the Ask The Guides series so far. The interviews tended to run longer because of the enthusiasm of the guides for the unique hunts they do, and, consequently, the length of this book is noticeably longer. Many of the guides had harrowing tales of narrow escapes and dangerous situations, and no less than three have been mauled by either a grizzly or a brown bear. The reader will find many anecdotes about these grand North American game animals at times riveting, entertaining, and thought provoking.
As before, we have found the most experienced guides in the business and asked them how they hunt for brown bears and grizzlies. The success of this series on North American game remains simple: No one single person can compare in knowledge to a group of well-known professionals who, collectively, have more experience than any one sport hunter will ever garner in ten lifetimes. These guides have been on hundreds of hunts and have seen all kinds of hunters, rifles, and calibers for their particular quarry, and they pass on their experience and knowledge to the reader in this extremely interesting book. If you want a brown or grizzly bear, you are well advised to listen to what they say.
There are distinct types of brown bear hunts, and the author has included experienced guides for each kind: two from the Alaska Peninsula, two from Kodiak Island, and two from southeastern Alaska. These three types of hunts are conducted using very different methods, and the text explains the differences in great detail. In addition to information about hunting interior grizzlies, the book also includes information from two guides for coastal British Columbia grizzly bear. Because of the diversity of terrain and the vast differences in hunting situations, the author chose three guides to explain hunting for interior Alaska grizzlies and interior Canadian grizzlies (British Columbia and the Yukon). Then he found one guide for barren ground grizzly, even though only a handful of bears are taken by sport hunters there annually.
The guides featured are Guy Anttila, Darwin Cary, Ron Fleming, Dennis Harms, Gary "Butch" King, Peter Klaui, Dave Leonard Joe Mott, Mike Munsey, Scott Newman, James Pokiak, Larry Rivers, Alisha "Mutts" Rosenbruch-Decker, Tracy Vrem, and Chris Widrig. Combined, these men and one woman have over three hundred years of accumulated guiding experience!
---
Book Excerpt
Read book excerpt from Ask the Brown Bear/Grizzly Guides by J.Y. Jones

$29.95 - Hardcover

---
---
---
---